Founded by Anuradha Chadha in 2004, 3A Clothing Company manufactures and exports fashion apparel and accessories, and is headquartered in Udyog Vihar Industrial Area in Gurgaon (next to New Delhi), India with a factory spread over 12,000 square feet. 
We manufacture a variety of fashion accessories and free-size fashion apparel for fashion brands, retail chains, designers and importers in Europe and the U.S. Anuradha (Anu) is a notable industry speaker on global platforms, and both she and our Company are honored to have received numerous domestic and international business awards. For a notable list of speeches, press and awards, please refer to Press & Awards.
Our Product List includes:
Scarves and Stoles

Fabric Bags with Leather Handles and Trims

Leather and Fabric Belts

Ponchos, Shrugs and Kaftans

Free-size Maternity and Plus Sizes 

Beaded Jewellery

Corporate Gifts

Additional products upon request
We are a design-led company driven by the passion of a first-generation entrepreneur, and participate in various fashion trade fairs in order to keep abreast of the latest trends and technical developments in the fashion industry. Our design team translates fashion trends very beautifully and curates a multitude of designs, styles, prints and embroideries. We work diligently at product development and keep our buyers informed of our latest innovations and collections through inspiration pictures and offer samples.
At 3A Clothing, we genuinely care about gender diversity in the fashion supply chains and women's economic empowerment. Anu speaks about these topics on public platforms to create sensitization and influence by example. 
Through our business, we train and empower the women who work in our factory, a majority of whom are primary breadwinners in their homes. In turn, these women empower the women of Europe and the U.S. to look beautiful in the fashion products they manufacture. Hence, we bridge fashion where the journey starts with women in the supply chain and ends with women as final customers.
Ethical trading initiatives and responsible supplier training remain high on our management's priority list. The Company is proud to nurture a safe and stable work environment for our gender-diverse workforce. Our team-members are hand-picked for their commitment, skills and passionate personalities. Each one has been a part of the Company for several years. In addition, we also work with small-scale and cottage industries (artisans and weavers who manually weave fabrics on looms) in the rural areas of Barabanki, Varanasi, Bareilly and Bhagalpur, promoting their textile specialties internationally.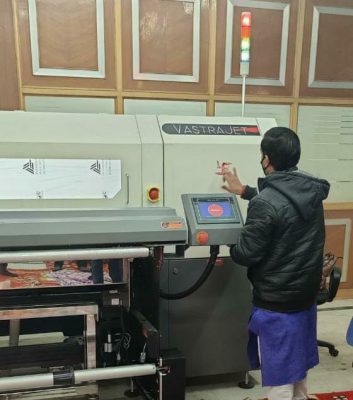 3A Clothing's competitive edge lies in a clear mission statement: a deep understanding of our buyers' requirements, constant innovation, competitive pricing, consistent quality and timely deliveries. We endeavor to meet high professional, ethical and environmental standards, and have proven ourselves to be trusted supply-chain partners for our buyers. In fact, a majority of our initial buyers continue to work with us with high customer satisfaction ratios. 
Our Company is an investor in a public-private partnership [PPP] with the Government of Haryana under the State's Mini Cluster Development Scheme. Wishcoin Digitex Pvt. Ltd. is our Company's joint partnership to deploy two state-of-art in-house digital printing equipment: Konica Nassenger Pro. Printing started January 2021.